When I think about Android, I often wonder about how to make Flash Player work on it. You see, there are quite a few browsers out there that already come with Flash Player included. But when it comes to playing a Flash file, like an SWF file, without an internet connection, I find myself feeling a bit lost, not knowing what to do.
But don't fret! I've figured out how to do it, and I'm happy to share what I've learned. So, if you're curious about making Flash Player work on Android, just follow the steps below, and you'll see how it's done.
SWF is a kind of file made by Adobe Flash. People use it for things like videos, pictures, and interactive stuff.
It all started with a company called FutureWave Programming, then it went to Macromedia.
After that, Adobe took over. SWF files can have animations or interactive things in them. You can see them in web browsers, especially for games, using something called ActionScript.
What do you need to play SWF files offline?
To play an SWF file on an Android device, you'll need three things:
Adobe Air (Android app): Adobe Air is an app that lets you use Adobe Flash Player on your Android device. Some newer Android devices may not require this app, but it's a good idea to try it first. If it doesn't work, you can still use your SWF file without it. You can download this app using the download button below.
SWF file player (Android app): This app is crucial for playing SWF files without needing an internet connection. Whether it's a Flash game or any other SWF file, this app can read and display it. You can download this app from the link below.
An SWF file: To run a Flash Player on your Android device, you must have an SWF file. This is the file you want to play or run on your Android device.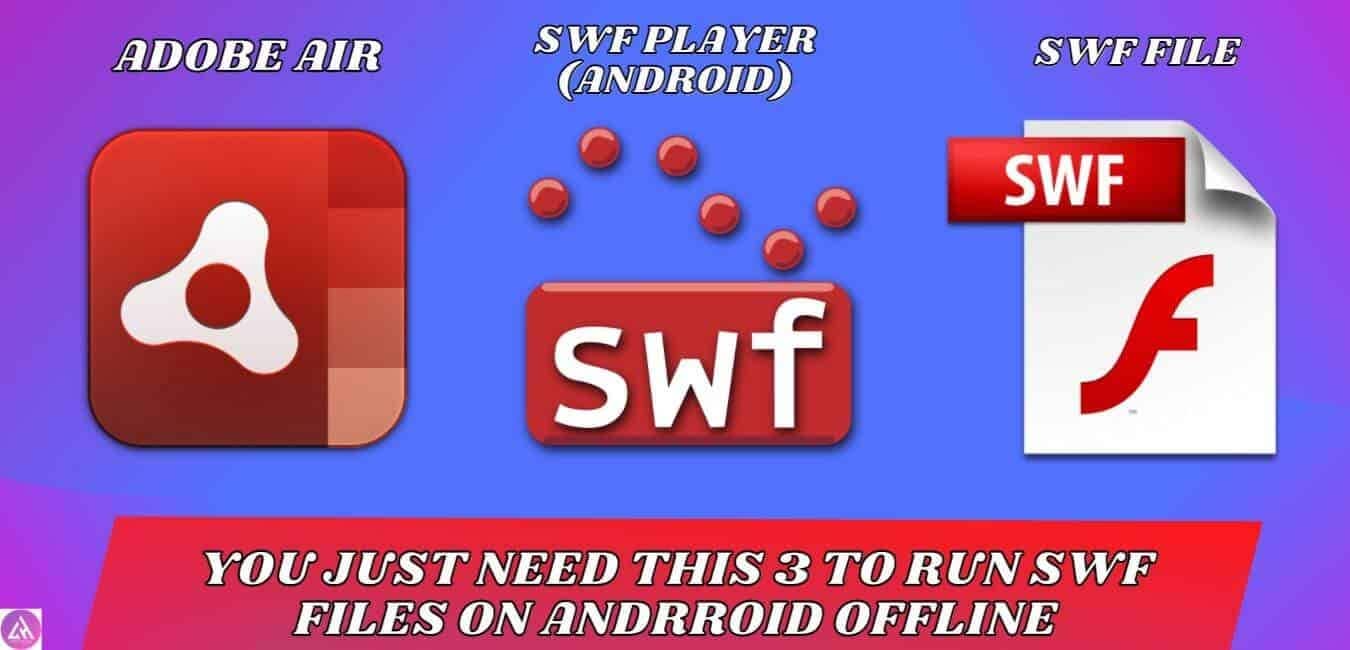 Note:
Mozilla Firefox for Android no longer supports Adobe Flash Player.
How to play SWF Files on Android?
To learn how to play SWF files, follow these simple steps:
1. Start by downloading two apps: Adobe Air and SWF Player. You can find buttons to download them below.
2. Once the apps are downloaded, install them on your device.
3. Open the Adobe Air app and give it permission for everything it asks for.
4. Go back to your device's home screen and open the SWF Player app.
5. Allow all the permissions requested by the SWF Player app.
6. Inside the SWF Player app, tap on "Local Files" to find the SWF file you want to play.
That's it! You're all set to enjoy your SWF file.
If you're still unsure, you can watch the video above for a more detailed explanation with visuals.
To Install APK file, follow these simple steps:
1. First, click the download button below to download two APK files. (Read the explanation above to understand why you need to download these apps.)
2. Next, go to your Android device's settings.
3. In settings, look for either "Security" or "Privacy." If you can't find either of these options, try searching for "Additional options" and open it. You should find one of the two options there.
4. Once you've opened "Privacy" or "Security," you'll see an option called "Unknown Sources." Turn this option on by activating it.
5. After enabling "Unknown Sources," open the APK file you downloaded earlier and click on "Install."
Download Adobe Air APK File
Download SWF Flash Player APK (for Android)
If you find this Helpful, then Consider Reading the Posts Below: